7 Questions to Ask ABA Providers to Find the Best Fit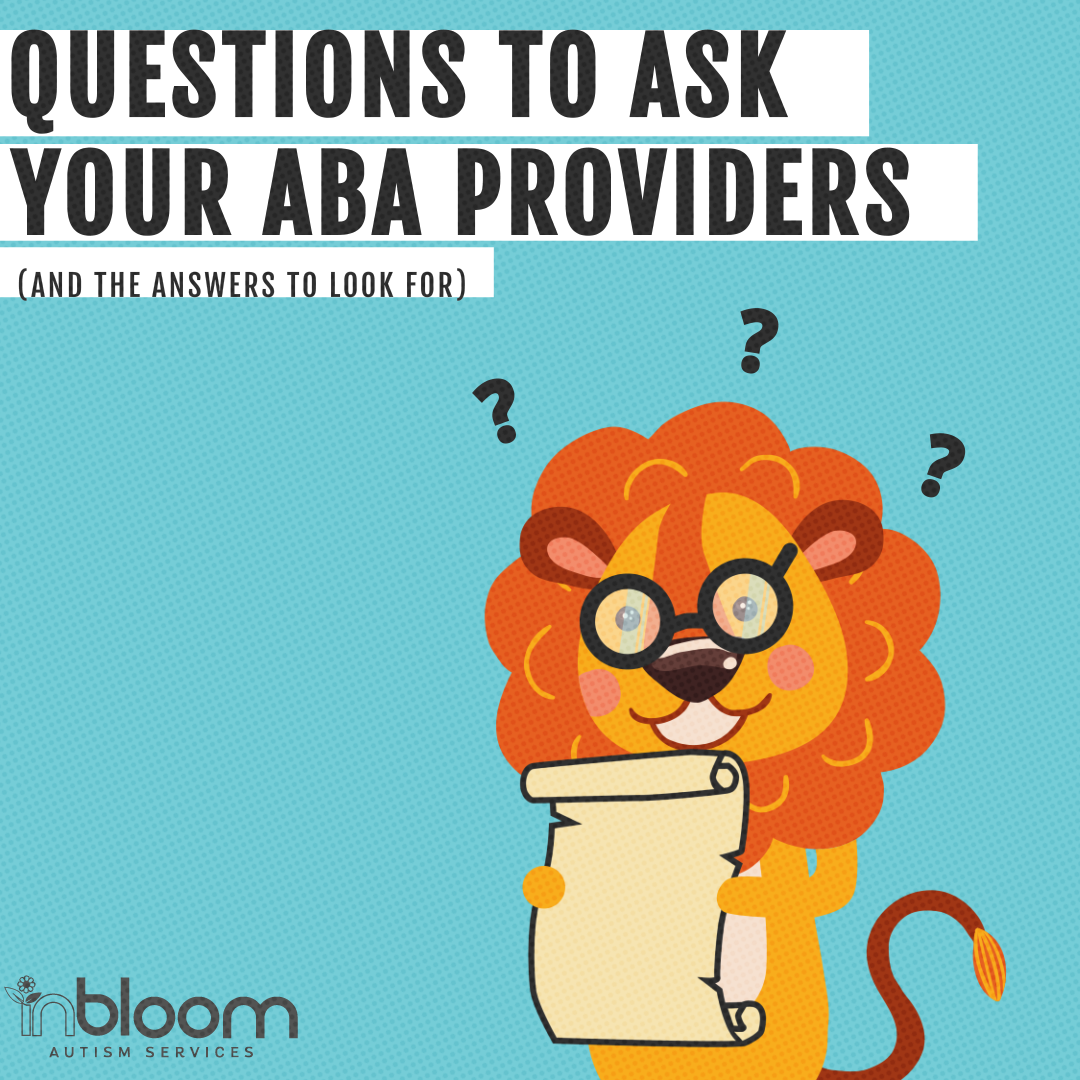 You've read the blogs or heard from other caregivers in the community proclaim that ABA is awesome! ABA is amazing! ABA is….also sometimes a little confusing when you're first starting out. Many parents or caregivers are faced with the challenge of choosing their ABA therapy provider and understanding the many new terms, methods, and ultimately new questions you will probably have! So how do you know what to look for when "interviewing" different companies? We've got you covered…
7 Questions You Should Be Asking:
You'll want to make sure that the team of clinicians is qualified and professional, especially when your child might be spending up to 40 hours a week with these people. If you're not sure what ABA Therapy should look like or what questions you should be asking, we've provided a good starting point for you! Here are some important factors to consider when choosing your team. These are all questions the company you're speaking with should be able to very clearly and easily answer for you. If they can't…well, then that should be a big red flag for you as a caregiver!
1. Are you a Comprehensive ABA provider or a Focused ABA provider?
There are two basic models of ABA services provided: Focused and Comprehensive.
Focused ABA treatment (10-25 hours per week):
Treats problem behaviors that threaten the immediate safety of the client, such as aggression, property destruction, and self-injuring behaviors.
Teaches developmentally appropriate skills necessary to maintain health, social inclusion, and independence such as: toileting, feeding, and compliance with medical procedures
Comprehensive ABA Treatment (30-40 hours per week):
Targets a multitude of intersectional skills including the targets in Focused ABA treatment, as well as cognitive functioning, community participation, emotional development, play and leisure skills, safety skills, self-advocacy and independence, social relationships, vocational skills, and much more!
2. Are all of your therapists certified?
RBT stands for Registered Behavior Technician. If they are RBT certified, this means that they have gone through standardized training, and have passed a clinical test that qualifies them to practice quality therapy. Therapists who do not have this certification are not held to any standardized qualifications. To verify if a therapist is RBT certified, you can check on the public registry here!
3. What type of training do your therapists receive after starting with your company? Is it hands-on?
Every therapist should be receiving consistent, frequent, and ongoing supervision and training at every company they work for–even the ones with a TON of experience! According to the board, Behavior Therapists (RBTs) can not operate independently, and they require training to ensure new procedures are being implemented correctly for all the different kiddos they may work with. Behavioral Skills Training (BST), a common method of training used in ABA, involves explanation, hands-on modeling, practice, and then feedback!
4. How frequently can I expect an analyst to provide in-person supervision to the therapists on the case?
The Board requires that RBTs are supervised at least once a week by an Analyst, on average. This supervision is best done in person in the presence of the client, where immediate, objective feedback can be provided, and the Analyst can model new procedures as needed.
5. How do your therapists collect and report data to analysts (BCBAs)?
If therapists are not collecting data after every interaction, it is not considered the "Best Practice" of ABA. Ideally, a therapist will collect data after every response your child engages in. This data is a crucial part of tracking your kiddo's progress and ensuring that the treatment plan is effective for the current skills being applied. If there is a company that takes data at the end of every session, or on occasion, this allows a lot of room for skewed information, which can quickly lead to ineffective therapy.
6. Do the analysts (BCBAs) at your company have a clinical supervisor who regularly checks for integrity?
Checks and balances are good! Who is the Analyst reporting to? Especially as new BCBAs come into the field, they will need a supervisor who is checking in on their treatment plans, supervision methods, and data analysis to ensure clinical integrity. This will ensure that every analyst is also being held accountable to the ethics and science they are bound to as ABA providers! It also ensures that Analysts are providing ample amounts of support to the behavior therapists to do their jobs effectively!
7. What types of caregiver training do you offer to generalize skills and behaviors to the home environment?
Effective ABA therapy always involves taking the skills and behaviors learned in a controlled environment and transferring them to new environments and stimuli. Sometimes this generalization happens naturally, but many times, this requires specific planning with treatment and regular involvement of the parents in sessions. Many companies offer (and even require) caregiver training that gives caregivers the tools they need to bring those skills home!
These factors are a great way to start narrowing down your search and making sure that your therapy team is qualified and uses best practices. There can be some other factors you may want to identify to ensure the therapy team is a good personal match.
Here are a few more topics you can discuss with them:
Location of Therapy (Home, Center, School, Community)
Play-based therapy (NET) vs. Table time therapy (DTT)
Additional Analyst Training and Certifications (Peak, ACT, etc.)
Ability to collaborate with other disciplines (such as speech or OT)
With these tools, you'll be well on your way to understanding what ABA Therapy should look like and finding your perfect match!
Interested in learning more about InBloom's ABA Therapy program?
Click here to see how we can help your kiddo bloom! 
For more information on standards, regulations, and guidelines for ABA practices, you can actually read their Board-Governed guidebook here!