DTT versus NET in ABA Therapy: What's the Difference?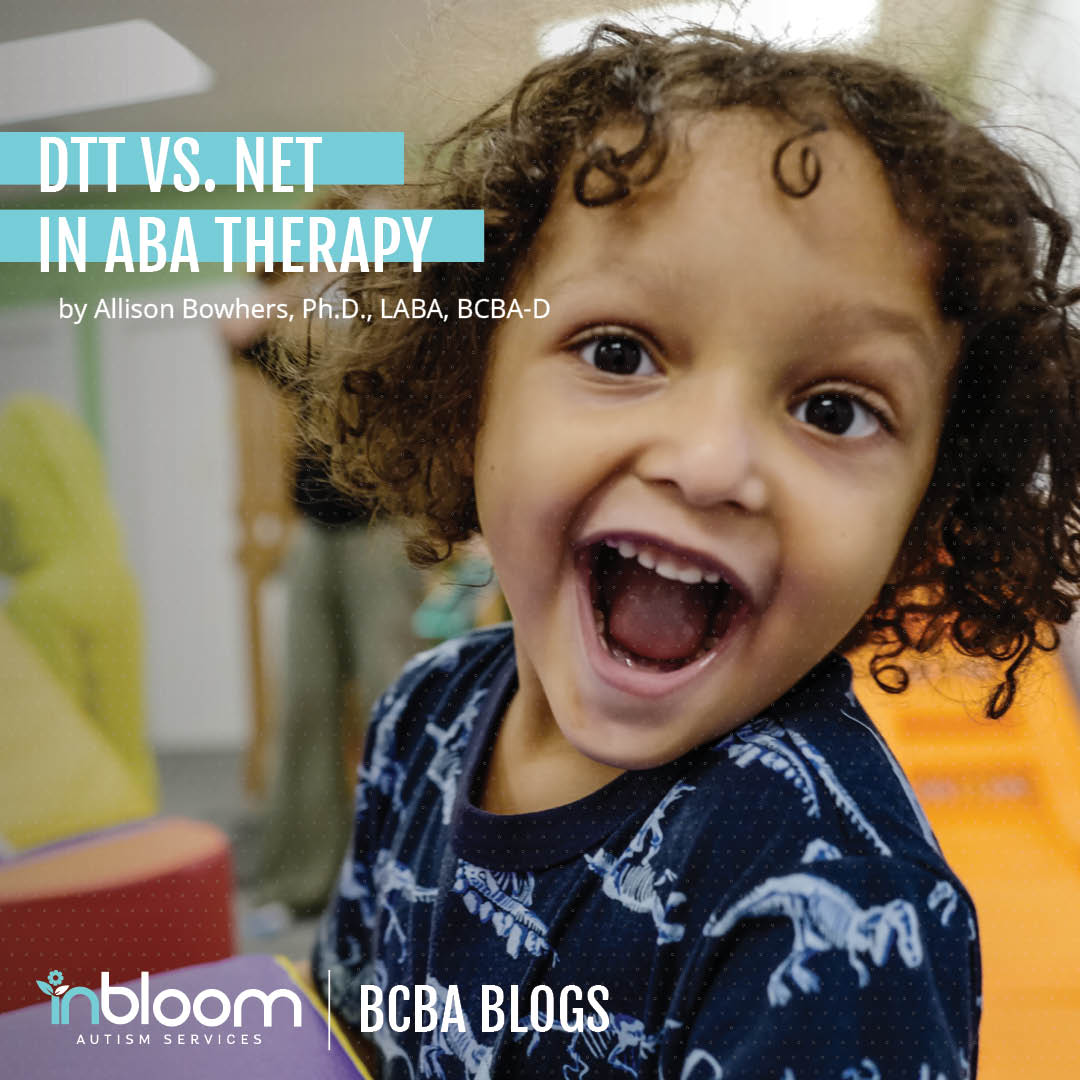 Discrete Trial Teaching (DTT) and Natural Environment Teaching (NET) are two common teaching methods used in the field of Applied Behavior Analysis (ABA) therapy to help children with autism spectrum disorder learn the necessary skills to improve their quality of life. DTT teaches smaller skills, oftentimes at a desk, like following directions or imitations, and NET helps carry over skills taught via DTT to the natural environment.
The use of two different teaching strategies like DTT and NET, allows the Registered Behavior Technicians (RBTs) to creatively capture different learning moments to help children become independent with their skills! 
How Does DTT Work?
Discrete Trial Teaching (DTT) is a form of teaching which is highly structured and is typically done in a 1:1 format with the kiddo and the therapist either at a table or in another controlled environment such as the child's treatment room. It's often used in ABA Therapy when teaching very specific or smaller skills.
These smaller skills can build into bigger and more important lifelong skills.
The RBT or BCBA will present the child with clear and simple instructions. One example is an RBT may demonstrate an action, like clapping hands, and ask the child to "do this." This is an example of an imitation program. Imitation is one of the skills we teach through DTT that can build into critical lifelong skills and even help with language development.
How Does NET Work?
Natural Environment Teaching (NET) is a method to teach in more natural settings or situations, across a variety of different environments, instructions, and materials. This can also be referred to as teaching "loosely."  As the child plays with a toy, the RBT may create opportunities for the child to communicate. For example, the child may be playing with a red car, then the RBT may play with a blue car and have fun with the child. Sometimes this will capture the child's attention and they may want the blue car. This is a great opportunity for the child to practice requesting for the blue car, or the RBT may create the opportunity for the child to point to it. In addition to creating an opportunity for communication, the RBT could show the child a way for the car to drive fast and ask the child to imitate the action. In this example, the RBT created an opportunity for object imitation.
NET can also be a great way to teach skills that are considered to be "pivotal" to helping a child learn additional skills in other contexts.
For example, using the NET approach may help a child learn to attend to various actions and objects in the environment during a play activity or task. The hallmark of naturalistic teaching methods is that the child's favorite toys and activities are used for teaching, which keeps the child naturally motivated to continue engaging in the activity. The child is learning without even realizing it.
Which Strategy is used at InBloom Autism Services?
At InBloom, we use both DTT and NET because that helps us provide a well-rounded ABA program to children, and to individualize our approach based on each child's needs for learning. Our clinical team uses a combination of highly structured DTT to teach skills with minimal interruptions and NET as a more relaxed and generalized approach. NET helps the child learn to use the same skills that they mastered in DTT in other places such as the park or home and across different people and situations as well.
So while DTT and NET are different, both strategies are super helpful when it comes to teaching life-changing skills to children on the autism spectrum. 
Learn more about our ABA Therapy Programs
Visit our website: https://inbloomautism.com/aba-therapy/ . You can also speak directly to a Care Team Representative at 888-754-0398 to learn more about our services.
Written by: Allison Bowhers, Ph.D., LABA, BCBA-D