Tips for Back to School – ABA Edition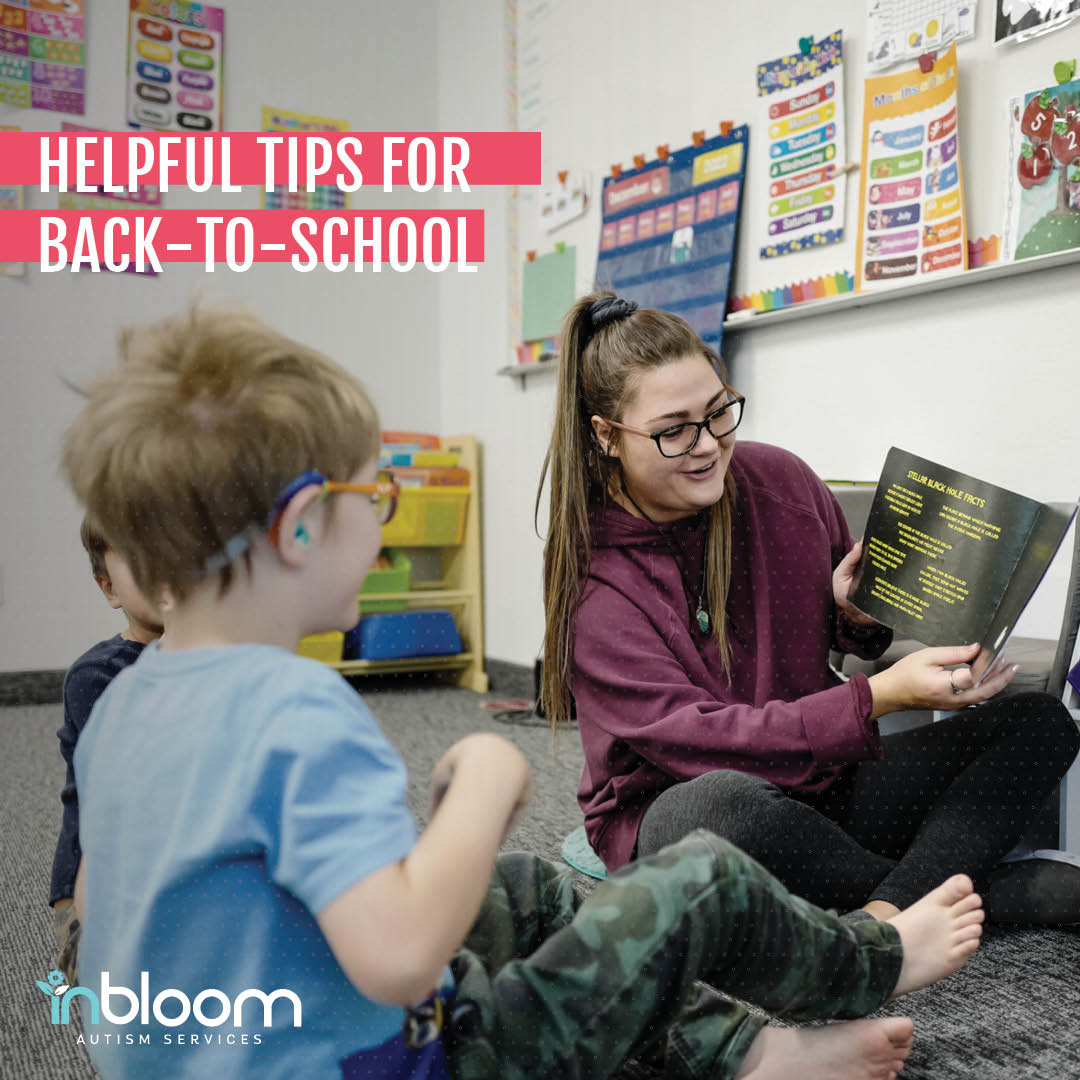 Start With the ABCs
It's that time of year when families across the country are getting ready to send their child or children back to school. For the kiddos and caregivers alike – this is an exciting time, a stressful time, and/or an anxiety-ridden time. Due to how each and every one of us experiences school and the social scene differently; we each reserve our own opinion about it and emotional connection to it. Hopefully, the following ABA tips and pointers can make the transition back to school this year a positive experience for all!
Never hesitate to reach out to your ABA Therapy team or your school team with any questions and/or concerns.
Antecedent
What's an antecedent? It's a fancy word for what happens before a behavior occurs. Here are some preventative measures to ensure you set your child up for success.
Contact your teachers/specialist team / write an individualized letter that goes beyond the scope of an IEP to introduce your child. Contact the personnel within the school (teachers, specialists, and/or administration) who will be working with your child. Some might know him or her others might not. A phone call, email, or even a letter explaining how the summer went goes a long way, it is much more personable compared to reviewing an IEP. Fill them in on an activity or two, how some goals have been progressing over the summer, strengths, weaknesses, allergies, etc.
Get supplies. Get all the supplies you need before school starts! Notebooks, pencils, crayons, backpacks, folders, shoes, clothes, etc.! It doesn't stop there, though, think about how your ABA Therapy team can support you with any visual aids or supports to make this year's back to school transition a little easier!
Practice the morning routine/create a daily schedule. Establish the morning routine before school – wake up, eat breakfast, shower, change into school clothes, get a backpack, and get on the bus (or some variation). Collaborate with your ABA team to make a visual aid/support to make a tangible schedule to help your child complete the morning routine in a timely fashion with programmed reinforcement. Once you establish this routine and determine whether visual support is needed; practice-practice-practice!
Talk about school. In the weeks or months leading up to the first day of school, talk about school. Ask your ABA team for help in regard to how to talk about school. Materials such as a visual story could be created to help talk about it and start a dialogue about what to expect and what the routine will look like.
Go see the school / see the bus or meet the driver. In some schools and districts, they allow a day for students to come to tour the school and see their classroom (and sometimes even meet their teacher) before the school year starts. If they don't, ask! It never hurts to ask. Some school districts will also allow the kiddos to meet his or her bus driver, again, just ask! These efforts to familiarize your child with the school and the people within the school will ideally make your child feel more comfortable at school.
Understanding your child may have a tough time. (less time at home/with parents; more structure; more work demands) try to remain positive and encourage perseverance through the challenges they endure.
Behavior
Behavior includes anything a person says or does. Here are some positive and challenging behaviors to do and anticipate while transitioning into this school year.
Frequent communication with teachers and specialist team. Be an advocate – at the end of the day, you as parents (or caregivers) serve as your child's best advocate in the school environment. Ask for some type of communication if your school does not provide some type of daily communication; put a communication log into your child's IEP; and ask for specifics (if possible)!
If applicable identify key people to seek out and contact. In some cases, the kiddos can have several adults within the school that can be identified as a person to seek out or visit with, if they have a hard time. These people could be specialists, counselors, or previous teachers!
Honeymoon period. Sometimes during a new(er) transition, the kiddo will inhibit 'typical' rates of challenging behaviors while there. For example; if 'Johnny' typically engaged in 5-10 vocal refusals per hour last year in class, for the first couple of weeks this year in class, he may be at 100% compliance before starting to engage in any rates of vocal refusals.
Bypass of the honeymoon period. In some cases, the honeymoon period does not exist and there will be no 'buffer' period in regard to inhibiting any behaviors. In other words, day 1 could be difficult for the kiddo.
Consequences
Consequences are anything that happens after a behavior occurs and can lend to either increasing or decreasing the likelihood a behavior will continue in the future. What you can do once the school year already starts? Here are some suggestions:
Keep consistent with communication with the school. Consistency is key. As a behavior analyst, consistency is something I advocate for across the board. Communication with school and school specialists should be no different.
Encourage collaboration with your home and school teams. In agreement with the previous point, consistency is key. It is ideal that the home and school teams are aware of each other's goals and more specifically how they are working towards the goal. This facilitates what we call the generalization of skills and behaviors across people and environments.
Parent Groups. Parent groups, such as a support group or a SEPAC (special education parent advisory council), are valuable resources. These groups exist so parents and caregivers can support each other and provide various resources to each other – ABA providers, social skills groups, advocacy resources, etc. Some parents even end up making friends with other parents who they would have otherwise never met.
Pat yourself on the back – nobody will ever tell you how many hours are dedicated towards school readiness in the month of August. Parents need reinforcement too! Don't forget to carve out time for yourself – go for that date night, stay up, and watch that extra episode of Netflix!
Ready, Set, Implement
Transitioning back to school after a long hot summer could be fun and exciting for some, but also brings up challenges and obstacles for others. One of the take-home messages of this blog is to set your child up for success (refer to the antecedent section). What can we do as parents, therapists, friends, family, etc. to set the kiddos up for a successful year? What can we do differently this time around? After all – this world is a two-way street – to change other people's behaviors, we must change our own.
However, it must be acknowledged that these strategies are not 'fixes' to any problems, but rather strategies to make the school year a successful, positive one for your child. As caregivers or therapists, we must expect the unexpected and stay on our toes. Never hesitate to reach out to your ABA Therapy team or your school team with any questions and/or concerns. We are all here to help make transitioning back to school a positive experience for all. This brings me to the second take-home point – communication, collaboration, and consistency are keys to a successful transition into school and the school year within itself.