The South-Florida Medicaid Moratorium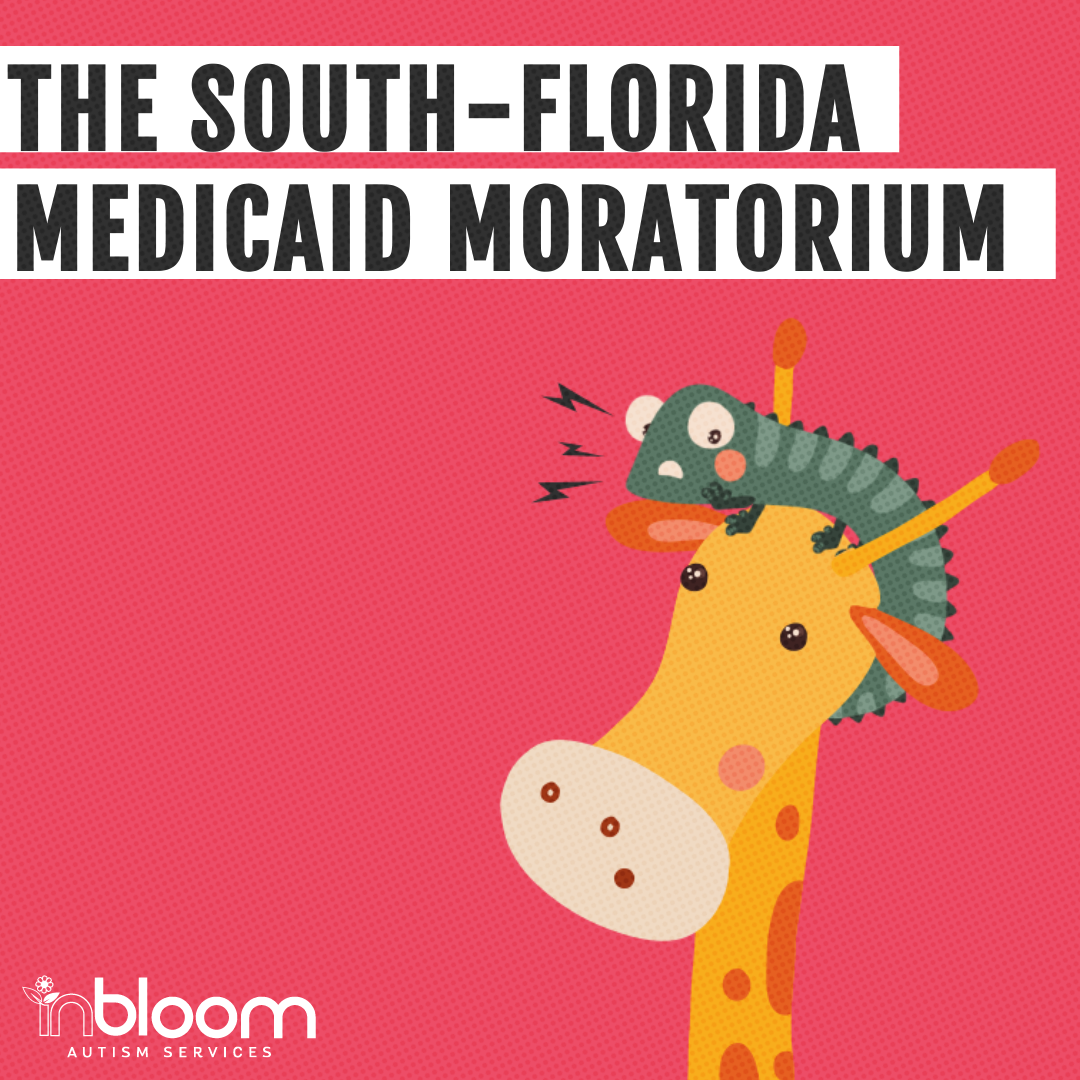 The initial days of finding a new ABA therapy team for your child can be stressful! They involve doctors offices, hours of assessments for you and your child, and calling various companies to find the perfect fit. It's definitely no easy task to get over that initial hump–any caregiver who has gone through the process deserves an award for maintaining sanity this far! Making ABA Therapy and healthcare overall more affordable and accessible to everyone who needs it is a process that continues to progress year over year, but not without its own speed bumps along the way. Right now, throughout the state of Florida, we're experiencing one of those big speed bumps…and it has resulted in big delays in progress. We're talking of course about the current Medicaid Moratorium.
What's going on with Medicaid?
In May of 2018 a moratorium was placed on ABA services through Medicaid in specific parts of Florida. AHCA, the state agency that manages Medicaid for Florida, has delayed services for Behavior Analysis in two counties: Miami-Dade and Broward. AHCA is still enrolling Medicaid providers but at a much lower rate–which means that while the number of kiddos who need services is increasing, the number of approved providers doesn't even come close to meeting the demand. On top of that, the entire state has also begun an audit process for all current Medicaid providers which has delayed payment for those services until they can verify that each provider has acquired and maintained the appropriate qualifications and credentials. To view the original press release issued by AHCA announcing the moratorium, click here: https://demo.cms2cms.com/wordpress-632279805da97/wp-content/uploads/attachments/BA_provider_release5142018.pdf
Why has this happened?
Medicaid is attributing the delay to numerous instances of billing fraud in Florida, and has targeted the Southeast as a "high risk" area. These types of billing fraud included billing "unbelievable hours" (such as more than 24 hours in one day, or more than 40 hours in one week), and falsified qualifications of providers. With these things happening, we can certainly understand why there has been an investigation opened. We cannot, however, get on board with the thousands of children who have gone without medically necessary services due to the negligence of a handful of fraudulent companies.
Who is affected?
Medicaid declared in their initial press release that "This moratorium does not impact patients' ability to obtain services. No Medicaid recipients will go without necessary services."; however, we have seen the exact opposite. Some companies have waitlists surpassing 100 people and several months long. Providers who were previously authorized to bill Medicaid have been put on temporary restrictions. Children in Broward and Miami-Dade who have medicaid but are not already assigned to cases are having difficulty finding new credentialed therapists to provide therapy. AHCA has provided instructions for any Medicaid recipients who are having difficulty accessing services to contact the Florida Medicaid Helpline at 1-877-254-1055, or file a complaint online here: https://ahca.myflorida.com/Medicaid/complaints/
How long will this last?
Medicaid declared their first six-month moratorium in May 2018, and then announced another six-month extension in November 2018. This puts the expected lift to occur sometime in May 2019. To view the original press release announcing the extension, click here: https://demo.cms2cms.com/wordpress-632279805da97/wp-content/uploads/attachments/AHCAAnnouncesExtensionofMoratoriumonEnrollmentofNewBehaviorAnalysisProviders.pdf
Are there any positive outcomes from these events?
Yes, although this situation is far from ideal, there are some very important and lasting benefits that will result from ACHA's actions. For starters, it will help ensure that the state's funds are devoted to what they are intended for. That is, to serve individuals who so desperately need support from qualified professionals in order to ensure their safety and well-being, to support their achievement of higher levels of independence, overall productivity, and success in their daily lives. Additionally, these vulnerable individuals will have greater protection from the various types of harm that can result from receiving services from unqualified individuals. Finally, if less fraudulent and excessive billing is occurring, we can hope that there will eventually be more available funds to go around, enabling a greater number of children to receive services than ever before.
What is InBloom doing about it?At InBloom, we are working diligently to continue providing services in whatever way we can to the Autism community. On top of that, as an organization we follow-up with Medicaid daily on working to add new providers. We have also been proactive in meeting with the Directors of Medicaid and ACHA and have offered InBloom resources to help craft regulations that will prevent, and more quickly identify, the rampant healthcare fraud that has plagued Florida. Beyond this, for those who we cannot service, we will provide resources outside of our company until we can find and source any previously credentialed and qualified Medicaid providers to meet the need in our service areas…or, of course, we credential our own growing team of clinical staff once the moratorium is lifted. We know how important therapy is to the families we serve throughout the country but particularly throughout the state of Florida right now, and what the consequences are when it comes to going without services for even a short period of time. We guarantee that we will be there for you in every aspect we can be during this complicated transition.
What can you do about this?
Until new regulations and oversight can be implemented, we urge everyone who has been negatively impacted by the moratorium to file a complaint with AHCA and contact your state representatives. If you or someone you know are affected by this situation, let the AHCA know about it. You have a voice and deserve to be heard. AHCA has provided instructions for any Medicaid recipients who are having difficulty accessing services to contact the Florida Medicaid Helpline at 1-877-254-1055, or file a complaint online here: https://ahca.myflorida.com/Medicaid/complaints/