Meet Your Clinical Team!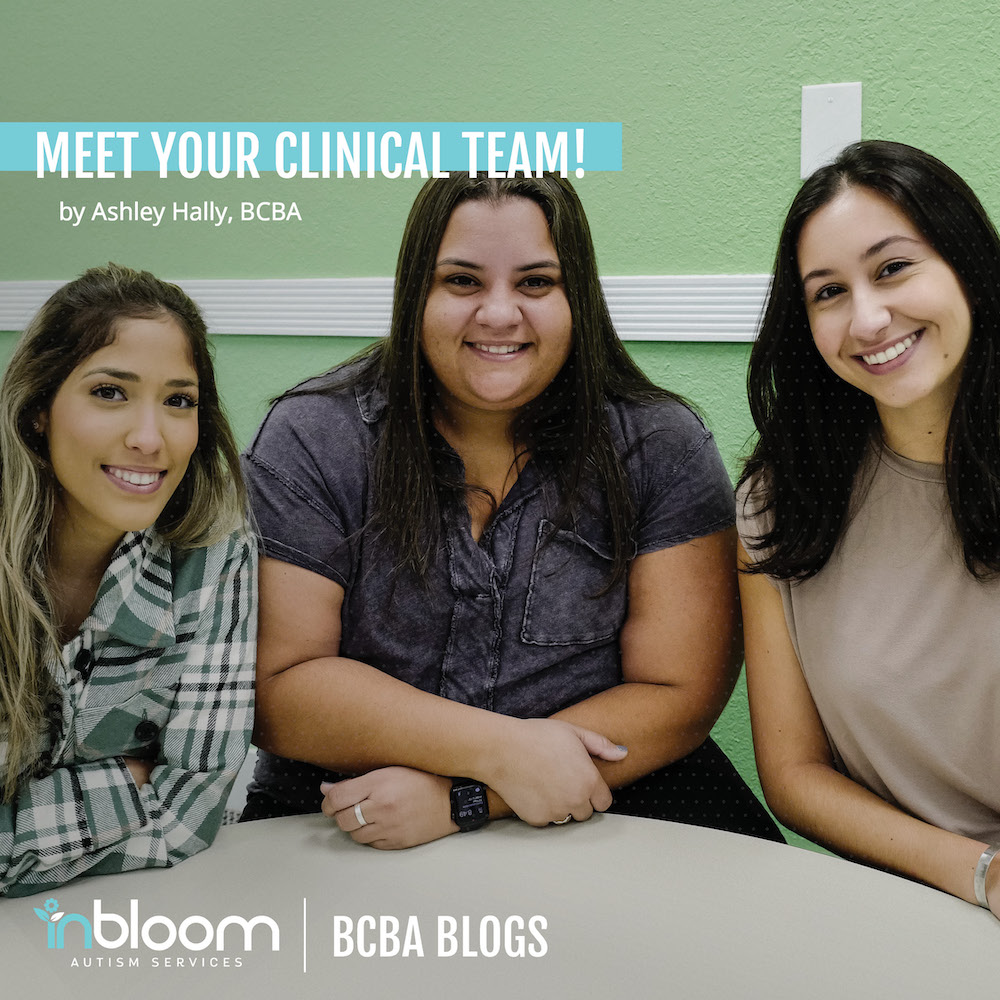 You found a wonderful place for your child to begin receiving Applied Behavior Analysis (ABA) therapy; that's awesome! But who is your clinical team? When you hear about all of the team members who will be a part of your support system, you may wonder where these individuals fall within the support hierarchy. We are here to help! 
One of the ongoing goals for RBTs who are assigned to your child, is  to ensure they form a trusting relationship with your child.
At InBloom, you will meet your Clinical Integrity Officer (CIO), your Board-Certified Behavior Analyst (BCBA), and your Registered Behavior Technician(s)/Behavior Technician(s) (RBT/BT). Take a peek at the chart below for an overview of each role and their associated responsibilities. Then, keep scrolling for more details!

Let's Start With Who You'll See Daily!
Who is the RBT/BT?
Depending on your child's prescribed number of therapy hours per week, he/she will either have 1 or 2 RBT/BTs. Your RBTs have gone through extensive coursework and hands-on training and have passed their RBT certification exam, focusing on core principles of ABA. They also continuously receive weekly training with their BCBA supervisors. This weekly training is on your child's specific therapy goals and the teaching strategies that will be used to help your child achieve those goals. One of the ongoing goals for RBTs who are assigned to your child, is  to ensure they form a trusting relationship with your child. Having a positive rapport will promote your child's motivation to learn and enable his/her RBT(s) to teach skills across multiple domains; communication, receptive/expressive language, self-care, safety, social, play, etc.! Many of these skills, in turn, promote a decrease in challenging behaviors in situations you may experience at home or in other settings. That being said, your RBTs are implementers of behavior intervention plans (i.e., how to proactively and reactively respond to challenging behaviors in order to decrease them and teach desired skills to replace them). Meet your RBT, your kiddo supporter and biggest cheerleader!
Consistency is key for progress!
Next Up: Who You Will See Weekly!
Who is the BCBA?
Your child will be assigned to a BCBA. Your BCBA is the ongoing assessor of your child's skills and needs, and the creator of programs to promote a continued increase in your child's independence and his/her ability to access continued learning day to day. The BCBA designs programs to support your child's communication, language, social, safety, and self-care skills. Your BCBA is also the assessor and developer of individualized behavior intervention plans to meet your child's unique needs. What are the challenging behaviors you want to see decreased and how should you respond to them? Your BCBA will collaborate with you and provide clearly written instructions and guidance on your child's client-specific treatment plan. Additionally, your BCBA will provide you with ongoing caregiver coaching so you can learn to carry over his/her treatment plan across home and community settings. Consistency is key for progress! With that in mind, your BCBA will also diligently provide training, supervision, and feedback to your child's RBT on a weekly basis to ensure consistency of intervention is established from every angle. Your BCBA will be your point person for clinical questions and concerns!
Lastly, Who Makes Sure Your Kiddo is Getting the Best Therapy? Your CIO!
Who is the CIO?
In the field of ABA, collaboration and consistency are key! BCBAs not only need collaboration with related service providers, teachers, and parents, but also with each other. Your CIO is also a BCBA! Your CIO holds a leadership title and is a mentor and guide for all BCBAs within a center. He/she provides guidance on client programming, behavior intervention, parent relations and questions, RBT training and team building! You can ask to speak to a CIO for any reason, at any time. The CIO wears all the hats we previously discussed and is, ultimately, your all around BCBA, RBT, kiddo, and parent supporter!
Written by Ashley Hally, BCBA